We are only two weeks into the 2022 year and already we are expecting a second snowfall! Hopefully the mittens and snow suits have dried off from the last storm, and you have stocked up on hot coco and scoured the ideal sledding location.
The best and most coveted spot is Forest Hill Park, a resounding favorite for folks south of the river, while Maymont and Church Hill have their fair share of slopes for sledders north of the river. Local parks and schools offer up bunny slopes for the little ones and steep hills for the big kids (plus bonus points if there is  parking and a main road to get to them)!
Where Richmonders prefer to sled seems to depend on what part of town they're in, so I complied a list of "hills for thrills" by location. Grab your snow boots and let's explore. We are scouting RVA's top sledding spots!
SOUTHISDE
In my 20 years as a Richmond resident, I don't think I have ever seen this park omitted from a live on-camera news story or spot on the front page of the Richmond Times Dispatch during a snowfall. As one of the most popular sledding spots in the entire city, this hilly and historic park is a perennial pick. As soon as the snow falls, locals lace up their snow boots and trek to this Southside favorite. With a vista of wide open spaces and rolling hills, this park is the ideal place to bring your sleds, tubes or toboggans, With hills of every size and shape, there is plenty of variety to suit the array of Richmonders that flock to it every winter.
Why Richmonders love it: The park's proximity to Forest Hill Avenue makes it easy to get to from both sides of the river
Where to find it:
Located at Forest Hill Avenue and West 41st Street
4021 Forest Hill Avenue
Richmond, VA 23225
Open from sunrise to sunset
Visit Richmond City Parks' Forest Hill Park webpage or Friends of Forest Hill Park to learn more.
Providence Middle
With social distancing serving as the phrase of the day, sledders in 2021 might be searching for some space to spread out on the slopes. Providence Middle offers up precisely this opportunity with its vast space to sled as captured in this drone shot (below) on a snow day back in 2016. Located in Chesterfield County with easy access from Midlothian Turnpike, Providence Middle offers accessibility and room to roam. All you need to do is bring your sled and get ready to ride!
Why Richmonders love it: Plenty of space to spread out
Where to find it:
Located at 900 Starlight Lane
Richmond, VA 23235
Open from sunrise to sunset
Providence Middle Facebook page to learn more.
The stretch of town west of Huguenot known as the Robious Corridor is primarily flat land until you begin to descend and curve along Robious Road towards the James River. For the many residents in neighborhoods like Briarwood and Roxshire, the flat land sends thrill seekers in search of slopes in developments like Tarrington. A Robious area favorite, sledders bundle up with their bobsleds in search of steeper hills.  The main entrance into Tarrington on Ashwell Dr. provides the best slopes, with plenty of room for the throngs of children, teens, and adults who show up to sled. 
Why Southsiders love it: Easy to get to and there are kids of all ages.
Where to find it:
Located off Robious Road, heading west towards James River High School
3500 Ashwell Drive
Midlothian, VA 23113
Open from sunrise to sunset
Visit Tarrington on the James or TarringtonVA on Facebook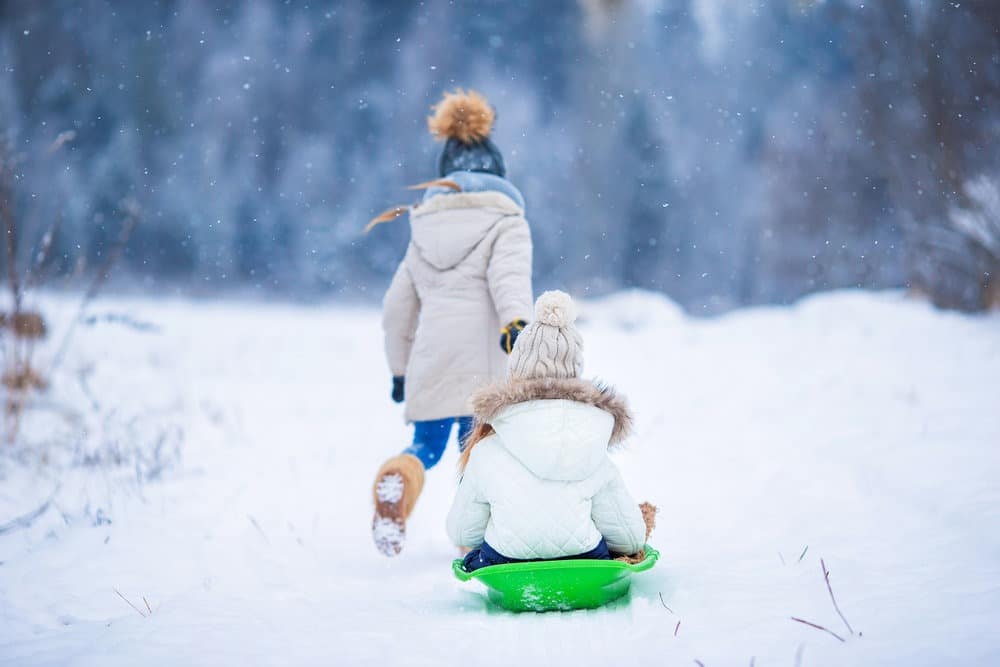 City of Richmond / Northside
Maymont
Everybody loves Maymont. It is a cherished Richmond park packed with activities throughout the year; however, when the first flake of snow lands, that is when the anticipation begins to build. Anyone who has been to Maymont can attest to the number of hills that ebb and flow throughout the park. In the winter snow, however, the steep climbs of Maymont are rewarded with a fantastic freefall on the way back down the hill, which is what brings back thrill seekers every year. Don't miss the slope behind the Children's Museum or the hill near Dooley's Mansion and the Nature Center.
Why Richmonders love it: Centrally located along the James River near the "Nickel Bridge," Maymont is easy to get to from Northside or Southside, offers ample parking and multiple hills to sled.
Contact:
Merriment
1700 Hampton Street
Richmond, VA 23220
(804) 358-7166
Check their Facebook page or call them (804-358-7166) for when they open their grounds to sledding: Maymont's Facebook Page
When sledders converge on Byrd Park on a snowy day, the images are reminiscent of a Norman Rockwell painting, and it truly harkens back to the days of walking communities with sidewalks and streetlights and good old fashioned fun. For decades Richmonders have been hauling their sleds to this popular city park, a hot spot for almost 70 years! Sledders make their way to Reservoir Hill and dreamy Swan Lake on snow days, where it will be easy to socially distance in this vast 387 acre park!
With its proximity to Maymont, you can potentially hit up both parks and enjoy hills and thrills for days with their combined options!
Why Richmonders love it: With so much to explore, it's the perfect spot to star gaze, hike or stroll after sledding while taking in the sights at Dogwood Dell and The Carillon.
Where to find it:
600 South Boulevard
Richmond, VA 23220
Open from sunrise to sunset.
Visit the Richmond City Parks' Byrd Park webpage to learn more.
Speed demons unite and zoom your way to Libby Hill Park. One of the original parks in Richmond City, Libby Hill is best known for it skyline view of the city and the speed sledding bonanza offered each winter. Located in Richmond's historic Church Hill, the peaks and valleys will keep your pulse racing as fast as your sled!
Why Richmonders love it: Besides the speed offered up by the giant hills, this is the best spot in town for a photo-op! There is nothing quite like the RVA skyline captured from Libby Hill Park!
Where to find it:
Located at 28th Street and East Franklin Street
2801 East Franklin Street
Richmond, VA 23223
Open from sunrise to sunset.
Visit Richmond City Parks' Libby Hill Park website to learn more.
If you seek the stunning skyline views of Libby Hill, but prefer a gentler slope, check out Chimborazo Park. This is great spot for younger children looking for smaller, milder hills. And the best thing about Chimborazo Park is it's Fido-friendly! Dogs are welcome inside the 800 square foot dog park, but don't forget your leash unless Fido is inside the fenced area. The smaller hills can be found at the back end of the dog park for the younger set not quite ready for the wild rides offered by nearby Libby Hill.
Why Richmonders love it: Stunning Church Hill views, fun for Fido, and great bunny slopes for the tots.
Where to find it:
Located in Church Hill at 32nd Street and East Broad Street.
3201 East Broad Street
Richmond, VA 23223Open from sunrise to sunset.
Visit Richmond City Parks' Chimborazo Park website
Henrico/ Lakeside
Rivaling Forest Hill Park in popularity, Bryan Park is Northside's winter wonderland. Anyone who lives on the North side likely knows that Bryan Park is the place to sled. As soon as the first flake falls ,until there is a solid coating on the ground, Bryan Park becomes a magnet for sledding enthusiasts. Like some of the other parks on the list, its variety of hills and open space make it a perennial attraction each year. Perched along I-95, it's easy to get to from all parts of town.
Why Richmonders love it: Easy access near the I-95 interchange makes it easily accessible while the snow is still fresh.
Where to find it:
Located at Hermitage Road and Lakeside Avenue
4308 Hermitage Road
Richmond, VA 23227
Open from sunrise to sunset.
Visit Richmond City Parks' Bryan Park webpage or Friends of Bryan Park to learn more.
Henrico/West End
The University of Richmond's Boatwright Hill offers optimal sledding action and legendary rides, all while whizzing by some of the most beautiful buildings on any college campus in America. The legendary sledding slope can be found in front of the University's Boatwright Library. With limited road access through the campus, there is little chance of sledding into traffic, a bonus for worried moms everywhere.
Why Richmonders love it: Who doesn't love taking in the dreamy architectural scenery of UR? Besides, the University of Richmond campus is easy-to-find and offers parking nearby.
Contact:
University of Richmond
28 Westhampton Way
Richmond, VA 23173
(804) 289-8876
HENRICO / EAST END
For those of you looking for fresh slopes in Richmond's far east end, be sure to explore Powhatan Park. It offers sledding opportunities for newbies and daredevils alike. With a great hill located just next to the playground, you'll enjoy a smooth, even ride that's just right for kids and adults. And with plenty of open space, and more importantly, plenty of room to come to a nice slow stop, it's the perfect place for less experienced sledders, as well as seasoned pros. You'll find the best hill just above Gillie's Creek at Williamsburg and Fulton Streets.
Why Richmonders love it: Powhatan Hill Park is just next to the Powhatan Community Center. The center offers programs throughout the year; so before or after sledding, you can sign the kids up for activities or enjoy the gym, game rooms, and more. If you have folks in your family with little fingers and toes that tend to get too cold after awhile in the snow, or you just want to take advantage of a full day out of the house, this park is an ideal spot for sledding and much, much more.
Contact:
Powhatan Hill Park
Williamsburg Road & Northampton Street
Richmond, VA 23227
(804) 646-5733
Powhatan Hill Park in Fulton Hill, located at Powhatan Playground, right above Gillies Creek.