11185 Open Meadows Lane in Forest Hills Lakes
When a hot new listing hits the market, it's easy to find yourself caught up in the rush of snagging an appointment, taking a tour, and making an offer. How do you know when to toss your hat in the ring? Some buyers feel it in their bones and know immediately upon entering a home.  Other types of buyers (and hopefully their agents) are looking for potential and resale value from the moment they turn onto the street of a newly listed property.  I just listed this gorgeous piece of property in Hanover County.  From the moment it activated in the MLS, it has been hopping with buyers.
So it's off to the races with showings. As buyers weave their way along the scenic drive to my new listing, they make this inviting turn onto 11185 Open Meadows Lane (featured in the picture above). That is a whole new level of curb appeal, people!  It gives you all the vibes as you make your way down Open Meadows Lane.  Just imagine passing by Forest Hills Lake every time you make your way home.  There is monetary and sentimental value in the quality of a neighborhood, as well as scenic features like this gorgeous pond.
Let's talk about the importance of a neighborhood.  First things first, you always want to buy in a well established neighborhood that will increase in value over time. How do you know if that will happen? Like anything, history is the best predictor of future behavior, so ask your agent to share recent sales from the neighborhood with you. It's important to understand how much home values in the area have increased in previous years.  Sometimes, like in the case of this beautiful property on Open Meadow, opportunity presents itself with a stunning piece of property with dated cosmetic features  (like kitchen and bathrooms).  Savvy buyers who review recent sales in the area will quickly understand that making those cosmetic updates themselves will result in quick equity.  Homes of similar size sell for well into the mid-upper 300k range, while this particular listing's price tag is $280,000.  This, my friends, is a golden opportunity for buyers to get into a neighborhood for an unusually low price, if they're willing to make some updates to the home.  Where else can a buyer find wide open spaces AND a six car garage?  It's a fairly unusual find under $300,000 in the greater Richmond metro.
I always try and find the unique features of a home that sets it apart from others. By far the most stunning feature at Open Meadow is its bucolic surroundings. Every which was you turn there are rolling hills and beautiful trees. A local farm occupies the acreage across the street from the house, making a look out your front door pretty peaceful (see below).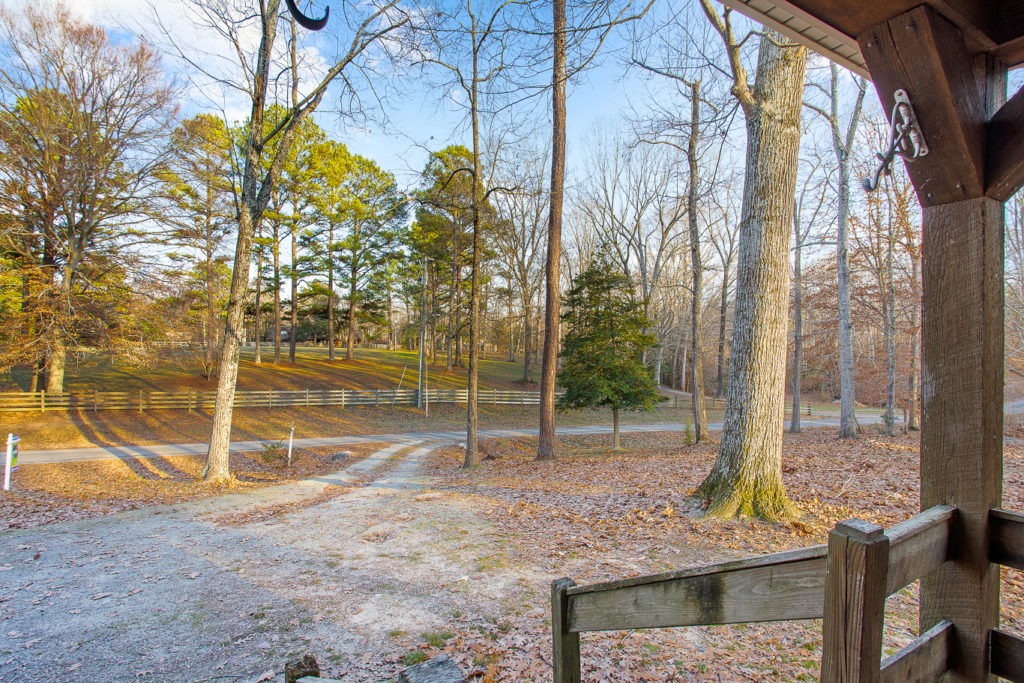 View from the front porch at 11185 Open Meadows
The land behind the home is also protected, allowing homeowners guaranteed privacy to hunt, camp, or ride ATV's. The level of privacy and access to nature leaves you feeling like you're living on a small, country farm. Yet, you're minutes from major highways, shopping, and schools.
All of this leads me to the wonderful word potential.  When you see it, take note, and that's when you make your move!  Especially on a unique and hard to find property like 11185 Open Meadows Lane!
1118 Open Meadows Farm showing off two of its unique features: natural surroundings and a six car garage.